Roper River Rhapsodies – The Vibrance of Ngukurr
February 24 – April 30, 2018.
Curated by Jamie Ivan Durrant
Aboriginal Exhibitions Gallery at Rutherglen Estates is proud to announce the forthcoming exhibition: Roper River Rhapsodies – The Vibrance of Ngukurr, from February 24, 2018 – a wild and at times ultra-modernist exploration of colour, nature and storytelling; including highly collected, artists: Ginger Riley Munduwalawala, Djambu Barra Barra, Willie Gudapi, Amy Jirwulurr Johnson and Gertie Huddleston, Alan Joshua Jnr, Faith Thompson Nelson, Joyce Huddlestone, Maureen Thompson, Lurick Fordham and Betty Roberts.
Highlighting art collector/gallery Director Hans Sip's significant collection of Ngukurr group works, the core of the collection was initially put together by Ngukurr author and artist Simon Normand 14 years ago (50+ paintings); made possible by Simon's personal connection to the Ngukurr community. After the initial acquisition the collection was significantly enhanced with an additional further 80 paintings and sculptures over the following ten years.
Roper River Rhapsodies – The Vibrance of Ngukurr is a historic celebration of the painters from South East Arnhem Land at Ngukurr, situated on the banks of the Roper River. Ngukurr [Nook-koor], 'a place of many stones' is today an Aboriginal community of about 800 people from nine different language groups, many of whom are displaced from their ancestral countries. Originally an early 1900s Anglican mission, the Roper River peoples of the time fled the violence of pastoralists moving up from the south, to the mission in Ngukurr. Together people of many different clans and language groups came together including: Alawa, Mara, Ngalakan, Ngandi, Nunggubuyu, Rittarrngu and Wandarang. This history is reflected in the subject matters and diversity of styles of the Ngukurr artists' paintings. Ngukurr artists are famous for exploring new painting styles and techniques and recontextualising them to become something wholly unique.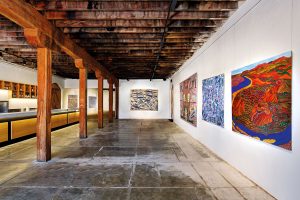 The first canvases from Ngukurr date back to March 1987 from painters such Ginger Riley Munduwalawala, Djambu Barra Barra, Amy Jirwulurr Johnson and Willie Gudabi; when Sydney artist John Nelson was employed by the Northern Territory Education Department to set up a painting course in the community (at the community's request). Nelson introduced large canvases and acrylic paints giving artists an unlimited opportunity to experiment with a new colour palate. The first paintings were shown in the Fourth National Aboriginal Art Award at the Museum and Art Galleries of the Northern Territory, Darwin. These works were brilliantly coloured, large and innovative in feel. They achieved instant acceptance from collectors and in following years, a range of prominent Melbourne galleries exhibited Ngukurr artists, both in group and individual shows.
Djambu Barra Barra's early works were distinguished by his complex and daring use of x-ray and cross-hatched bark painting styles, however cleverly adapted using bright acrylics on canvases. His technique extended the boundaries of traditional bark painting by depicting a wide array of introduced animals, traditional totems, weapons, spirits and mortuary figures. Often created on a monumental scale, the precision and detail within his paintings remain masterful. Many of his early large works feature in Roper River Rhapsodies, as do works by Djambu's wife Amy Jirwulurr Johnson. Amy paints highly detailed and very modernist interpretations of the local landscape – showcasing expansive landscape views, rock formations, river lands and storytelling; while other artists focus more internally or of the macro: plants and animals, family and ceremony, tribe and learning. Artist Gertie Huddleston highlights the spectacular gardens that surround the Nukkar mission in a detailed macro fashion. Vividly coloured and utterly mesmerising to the viewer, her paintings and the entire collection within the exhibition brilliantly unfold to announce the significant beauty and importance of the Roper River region.
Roper River Rhapsodies – The Vibrance of Ngukurr is an exhibition not to be missed, it opens to the public Saturday February 24.